Flood Water Removal, Flooded Basement Restoration
24 Hour Emergency Water Damage Services
Carpet, Tile, & Grout Cleaning
Quality Water Damage Restoration
Simplified
From a simple water extraction in Warren, to a full out flooded basement in Sterling Heights, at Flood Kleenup we take pride in our exceptional quality and service. We guarantee that our IICRC Certified Technicians will get the job done; not only as fast as possible, but done properly with the quality and care you would expect.
Industrial Quality, Residential Pricing
We only use the highest quality equipment to ensure your flooded basement will be restored as close as possible to pre-flooded conditions. Industrial air movers and dehumidifiers are essential for a proper dry down of water damaged areas.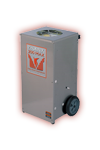 How Water Damage Affects You
When there is water damage, there's a lot going on behind the scenes, and a lot that can go wrong. If left to set, sitting water can quickly (within days) become a breeding ground for harmful mold and bacterial. Although removing the water is the top priority, improper drydowns can also lead to mold and bacterial growth in the affected area.
Flood Kleenup Inc provides on-call emergency water damage restoration services here in Michigan 24 hours a day, 7 days a week - year round. We have earned a reputation for speed, integrity, ethics, ambition, and premium customer service. We have the resources, manpower, equipment, and expertise to help you with your water damage and get the job done. Quickly and efficiently. After an incident, you want to restore your life back to normal. Let us help you with your water damage.
How to Prevent Water Damage
If you have water in your basement, first and foremost; you want to call a professional. While waiting, you can help prevent further damage. Remove any porous materials from the water damaged areas, such as; Card board, wood, clothing, or any other materials that can hold water. It is recommended to keep your stored belongings in plastic containers, as these are water resistant; and will help save your belongings.
Using plastic, or metal shelving over wood, in combination of using plastic containers, over boxes; greatly reduces the odds of damage occurring to your materials.
The Dangers of Standing Water
This picture demonstrates what happens when water is left unattended, and untreated.
The basement only had two feet of water, but as you can see, the damage stretches from the floor, to the ceiling; covering everything. It also drifted through out the house, causing mold to form in the upstairs kitchen, living room, and all other rooms.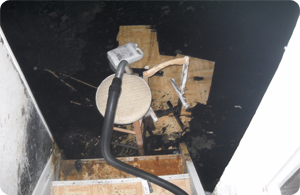 This happens primarily because of the water-wicking, it's caused by water naturally going where it is dry. Water wants to make all dry substances, wet. It is necessary to treat these issues, before they grow into substantially greater problems.